My name is Sarah Letourneau and I live and teach on the traditional territory of the Syilx Okanagan people. I am currently on maternity leave, expecting my second baby girl next week, but I taught Grade 4/5 this year and Grade ¾ in previous years. I have been at my current school for 6 years and absolutely love it as it backs onto a forested area we frequently use during class time. My school is a dual track (French and English) school and we are very fortunate to have a lot of technology to use with our students (Chromebooks, iPads, coding robots, 3D printer, etc.). I love living in the Okanagan as it affords many opportunities for outdoor activities in every season. My family and I love to get out and explore nature as much as we can through snowshoeing in the winter, hiking, biking, camping, and swimming in the surrounding lakes.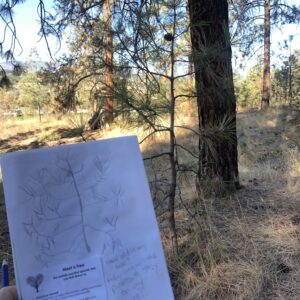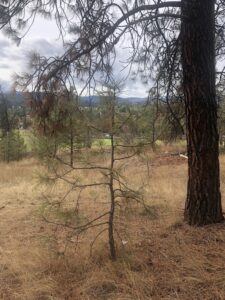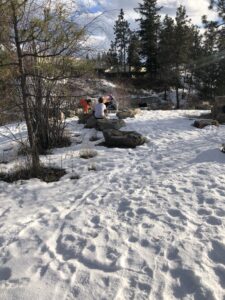 Since teaching Grade ⅘ this year I have become increasingly interested in giving my students more freedom over their learning. This could mean how I present information, create assignments, or how I assess them. Our whole school uses the platform, Class Dojo, in various capacities. This year I have found it quite limiting in what I want to have students do and be able to show and share their learning. I have mostly used Class Dojo for connecting with parents through their messaging system and then posting to the class story at least once or twice a week. The portfolio aspect of Class Dojo has limitations, only allowing students to post one photo to an assignment or limited time on a video submission, which has held me back from using it more. Other teachers use Class Dojo as a behaviour management system, giving points for good and bad behaviour. I have never liked this part of Class Dojo and have never used it in my own classroom. I am interested in exploring what other portfolio sharing platforms there are available to elementary aged students. I have only tried one other system, Seesaw, but disliked it more than Class Dojo and also felt forced to adopt what the entire school was already using (Class Dojo).
Class Dojo boasts it is a community where "teachers and families who come together to share kids' most important learning moments, in school and at home—through photos, videos, messages, and more" (Class Dojo, n.d.). I agree Class Dojo is a great way for students to show their parents what they are learning in school. But I want my students to be using technology to enhance their learning, not just be another box they check off to be completed. Chen et al. (1999) states, "the interpretation of information and the generation of knowledge will be dependent on the existing conceptual frameworks of the learner". Class Dojo has the potential to support and enhance learning, but the teacher needs to have the tools in order to guide their students effectively. There was a study done on the practical application of e-Portfolios in K-12 classrooms that found "students were better able to reflect on their learning processes and create a resource that showcased their goals, growth, talents, and achievements" (Karlin, 2016, p. 379). As school systems transition to a more competency based approach to learning this is the goal we have for our students, to teach them 21st century skills that will prepare them more adequately for whatever situation they are in. Even as early as Kindergarten these skills are being developed. Through regularly documenting students' learning over time in an online portfolio adults at home can engage in deeper conversations and reflections with their child and begin to see how they engage and interact with the world around them (Buchholz & Riley, 2020).
"To our students technology is less of a device they possess, but more of an environment they inhabit"
"It's our responsibility to be able to provide students with opportunities to develop their digital literacy skills and become lifelong, independent learners"
Research Question(s):
1. Does using an asynchronous learning platform, like Class Dojo, provide students with more opportunities to develop 21st century skills?
2. How can teachers use an asynchronous learning environment to create personalized learning for students in an efficient manner?
References:
Buchholz, B. A., & Riley, S. (2020). Mobile Documentation: Making the Learning Process Visible to Families. Reading Teacher, 74(1), 59–69.
ClassDojo. (n.d.). About. Class Dojo. https://www.classdojo.com/about/ 
Karlin, M., Ozogul, G., Miles, S., & Heide, S. (2016). The Practical Application of E-Portfolios in K-12 Classrooms: An Exploration of Three Web 2.0 Tools by Three Teachers. TechTrends: Linking Research and Practice to Improve Learning, 60(4), 374–380.
Tedx Talks. (2019, October 21). Technology, The best or worst thing for education | Scott Widman | TEDxYouth@BSPR [Video]. YouTube. https://www.youtube.com/watch?v=9IbN1LxXevM